About
Flip4Gold™ is a new and exciting educational app that teaches and reinforces math skills in a fun and challenging way. The game is ideal for children aged 9 and up. Math beginners aged 5 to 8 will also enjoy the game as they can learn number recognition and practice addition in Level One with the potential to progress to higher levels as their math skills improve. Teens and adults will love the challenges too!
To protect his treasure, Quatro the Lemur King has devised a series of math challenges to protect his gold by hiding it throughout his vast island kingdom. Players strive to master each new level through their quick use of addition, subtraction, multiplication and division skills, strategy and luck. Earn fun and motivating badges along the way!
Discover your Bright Light!
Build confidence and interest in math.
Strengthen mental math skills.
Develop logical reasoning, strategy and problem-solving skills.
Requirements: Compatible with all the latest iOS and Android smartphones and tablets.
HOW TO PLAY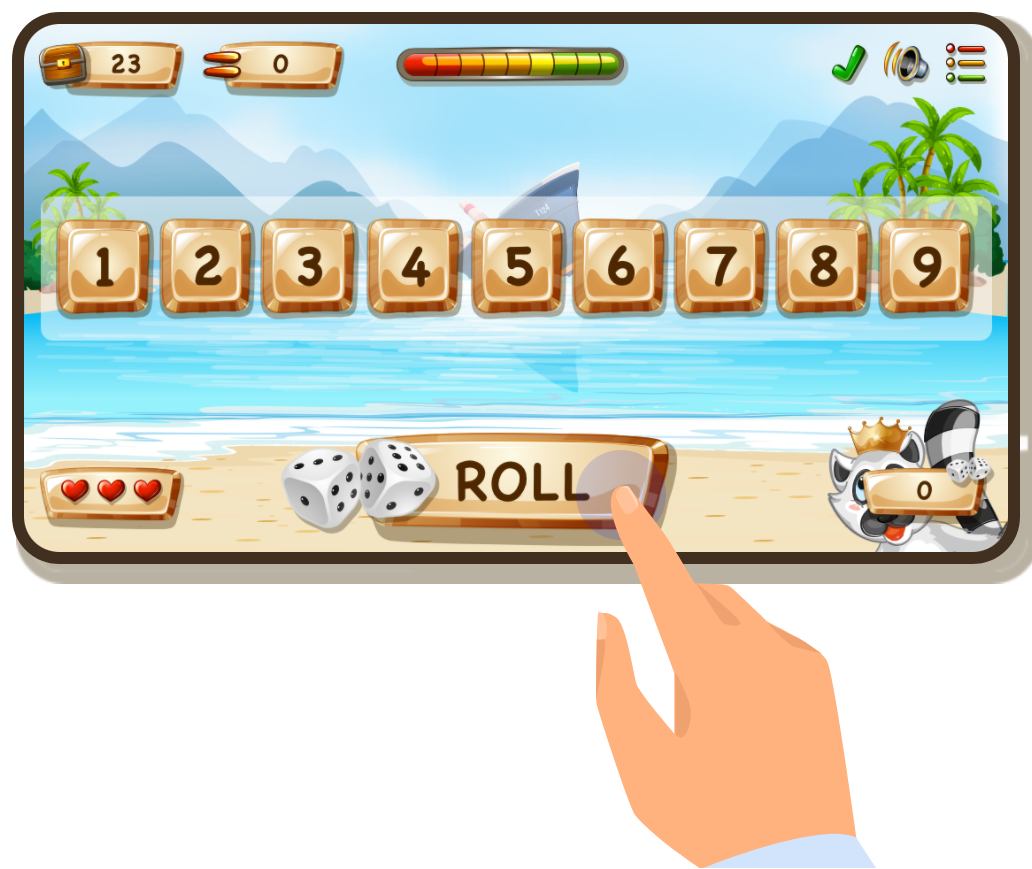 Tap 'ROLL' to roll the dice. An equation will be presented consisting of the die roll and a math operator. You will then need to tap the numbered tiles consecutively to create a sum that matches the presented equation.
But hurry! Once the timer bar runs out, you lose a life (heart) and the timer resets. Lose all your lives and your game ends!
As you progress through the game, the levels get harder, the equations get more challenging, and the timer also runs faster. For customized challenges, a Free Play mode is available to customize a game level based on your own parameters.
FAQ
1. Is it possible to unlock a level without flipping down all of the tiles?
No, a new level is only unlocked when the previous level is completed.
2. How does a player earn stars?
Stars are earned by completing a level successfully with the equivalent number of lives (hearts) remaining.
3. Does the game end when the timer is over?
Yes, the game ends when the timer runs down completely 4 times resulting in the player losing all their lives.
4. How do I reset the badges?
To reset badges earned, tap on the 'ABOUT' button from the main menu, then tap 'RESET' in the following screen. Reinstalling the app will also cause all badges to get reset.
5. Can more than one of my children earn badges using one device?
Yes, when a badge is earned the player is asked to enter their name. This differentiates which player earned the badge. Each badge can only be earned once.
Raves
Parents, kids, educators and seniors are playing Flip4Gold! What they are saying…
Mental math made fun!
Flip4Gold is an entertaining way to reinforce math facts. As an educator, I highly recommend this game.
It allows students of all ages to either brush up on their skills or challenge themselves in order to reach
the final destination. I recommend to my students that they spend five to ten minutes a day playing in
order to improve their mental math skills.
It's never too late to learn to love math!
A fun and engaging game that improves your ability to understand the never-ending relationships that numbers have with one another. Flip4Gold…where were you when
I was in grade 4? #betterlatethannever
Great learning tool for kids!
This app is a great learning tool for kids by making math fun! Depending on the age of your child and his/her skill level with math, they can be challenged with multiplication, division, addition and subtraction. The app encourages kids who are at varying stages of math ability as well as challenges them to reach a higher level. Unlocking a badge signifies achievement and positively reinforces learning. Highly recommend.
Improves mental acuity
As a senior who loves puzzles and Sudoku, Flip4Gold is quickly making its way into my daily routine.
Flipped Out!
Flip4Gold is truly an addictive game! We downloaded the app and my son has not put it down since as he attempts to earn all of his badges. He loves this game. It is refreshing to find an app that is as educational as it is fun. I think Flip4Gold is a true break-through in math learning.
Flipped out for math!
My kids love it and I am addicted too! My daughter who is starting third grade in September is teaching herself the twelve times table with the help of the built-in multiplication/division table. Her progress is amazing and I am confident she will be well ahead of where she needs to be when she returns to school.
Our Flip4Gold mathematicians are saying…
Within the first week of returning to school, two of my daughters commented on how their math skills had improved. I attribute this improvement to playing Flip4Gold, launched on July 19, 2013.
8 Year old:
"Grade 3 math is so much easier than grade 2. I really understand how to add and subtract now. I am teaching myself multiplication and division too! I would play Flip4Gold all day long if my mom would let me."
11 Year old:
"I am playing Flip4Gold every day to help me quickly recall math facts in preparation for the SSAT I am taking in November."
13 Year old:
"I really noticed an improvement in my mental math skills as soon as I returned to school. When I am doing the warm-up math drills in math class my recall of math facts is much quicker than last year. Flip4Gold rocks!"